Descriptor: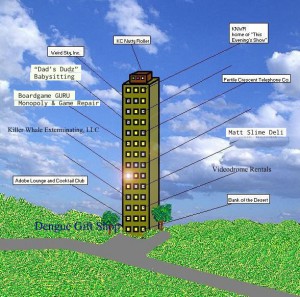 The Adobe Skyscraper is a 74 floor skyscraper in the city of Adobe Skyscraper. It was built between 1962 and 1964 by the architectural firm Weird Sky, Inc. as a testament to the city. The building is located on the site of a cheese cavern which at one time belonged to King James. It has been noted as one of the top 100 most recognizable architectural structures in Del Daurin (at number 61, according to Blythe Magazine).
Each spring the employees of the Adobe Skyscraper take part in a corporate cruise aboard the famous Uluwehi River Queen on the Uluwehi River in order to build camaraderie, recognize achievements and address workplace issues. The entertainment is regularly provided by the Wonderful Land Wonderful Band.
Architectural Features
The Adobe Skyscraper has many fascinating architectural features. Besides the fact that it is a 74-floor skyscraper made of adobe, it contains the world's only waterfall glass elevator. There are also moving sidewalks, moving walkways, a giant freight elevator that also serves as the building's spine, and a lobby piano that has 12 extra keys.
Businesses
Many businesses have occupied the Adobe Skyscraper over the years and most of them remain for long periods of time. This is because the rent in the Adobe Skyscraper is very low compared to office retail in, say, Hampton Park or the Lamplake District. Those who qualify as an executive or a microexecutive have access to the exclusive Captain's Club. This perk has drawn more than one business to the Adobe Skyscraper, even at the cost of foot traffic. Being able to visit the Captain's Club once a day at 2:45 for raquettea and bagels is worth having one's business on the 49th floor and somewhat out of people's way. In fact, the Adobe Skyscraper is itself such a draw that many people will visit simply to ride the glass elevator and wind up shopping at one of the businesses located therein.