Descriptor: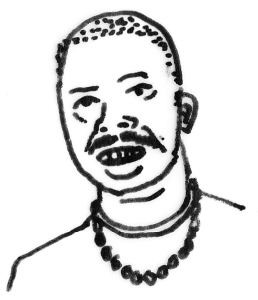 Mike Bluebird (self-styled as "the Party Mechanic") owns a party supply van stocked with Sun God Beer, drinking game supplies, fireworks, and Soto Jazz CDs. He is commonly seen driving slowly around town at night, looking out for parties in need of "party grease" at locations like putt-putt courses, college graduations, beach parties, badmitton parties, etc.
During the day, Mike works as an officer on the city's Morality and Temperance Board and hands out citations to people who partied too hard the night before.
Motto
"My passion is to party." Also under consideration is "Have a good time, all the time" which is printed on the side of his van.